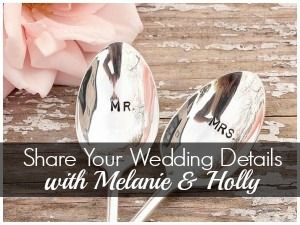 Well, well, well, it's a wedding link-up. From someone who has had one wedding but is now divorced, living with someone but not married; this could be potentially awkward. But for me? Nah! What the hell? Let's just go with it.
My ex and I had actually been engaged for a year and planning for a post graduation wedding when we hit a little speed bump in the form of an unplanned pregnancy. Being the good Christian girl that I was, (and unwilling to disappoint my mother or incur my father's wrath) we moved the wedding up to November. Planning a wedding with no money while still in college and having to plan around everyone else's schedules was stressful and not fun.
My mom and I were able to find a beautiful dress that fit me perfectly off the rack for $300 (score!) I decided that I needed 5 of my closest friends (I was in a sorority after all) and my sister for a total of 6 bridesmaids. We went out shopping one day and managed to find navy dresses that everyone liked and pretty much fit everyone's body type. Again, off the rack. Colors were navy and coral/peach. We got a good deal on the flowers and ordered the cake from Hy-Vee.
The ceremony and reception was held at a big church and my grandfather presided. He has been an ordained minister for years and the man loves to talk. Needless to say, the ceremony was loooooong.
We did not have a dj or a dance at all and of course, no alcohol. Other than tablecloths and streamers and balloons, no decorations. The wedding was on a Sunday and we ended up having to go back to school the next day. We never had a honeymoon. The pictures were taken by the boyfriend of a sorority sister and after receiving the proofs, we never ended up ordering prints of any of the pictures. I still have the album of proofs in a box. Guess that should have been a sign.
So... are Jason and I ever going to get married? (This is for you, Cheryl). Honestly, I just don't know. I am actually very happy with the way things are right now. Marriage would merely be a formality at this point since it wouldn't change anything in our relationship. Only our taxes.
However, if Jason ever does recover from the emotional scars left on him by his ex-wife and we save up a little bit of money and do decide to pull the trigger, I would do things completely different from the first time. The ceremony would not be in a church, most likely outside and it would be short and intimate. I want to have a huge reception with a ton of people, buffet style dinner and an open bar. Jason has already laid claim to picking the music, but I'm sure I can sneak some good jams in there too because I want to be able to dance.
The dress I'm still undecided about. I don't know if I would want to go floor length and strapless or if I want to go with tea length with a full skirt or something more "age appropriate". I really just don't know. That's where the fun shopping comes in!
Honeymoon is an absolute must. I would love to go on a cruise somewhere tropical and just relax and enjoy myself and Jason and not have to worry about anything.
So, there you have it. If I do ever have a second wedding, you guys will be the first to know and everyone's invited!