Today, I thought I would join in the race photo linkup with
Kyra
and
Mel
. Because posting more than once a week actually gets people coming back to your page! Who knew?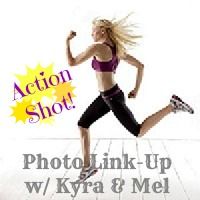 I tried looking for more race pics, but didn't have a whole lot of luck. There were none of me at the finish line from either of the races I did in Joplin, which is unfortunate. The Warrior Dash pics finally expired online I believe, and I forgot to screenshot them. These are the ones that I have from my 10K that I did in February. They are pretty epic because I look like I am about to die. That is pretty much how I felt, too.

My headband was about to fall off as this was pre-Brady Bands

So, now on to some much better pictures of me. I got the first sampling from my photo shoot and I'm pretty happy with the way they turned out. I kind of wish I had been smiling in a few of them, though. I really, really don't like the way my face looks in pictures when I'm not smiling. I don't think I have the sexy, sultry look down. I think I just look annoyed. Plus, I won't even talk about my jowls. (Jason says I'm not allowed to).


Overall, it was still a great experience and I can't wait to see the rest of the photos. Now, go dig up your race photos and link up!