I earned another Bad Mommy badge this morning. I managed to catch Emmeline's toe on the bottom of the door as we were walking into daycare. I felt terrible and it bled. Ugh, not a good way to start off the morning. I gave her lots of hugs and kisses to make up for it, though. She really is such a sweet little girl.
Such a Daddy's girl
And this man, I just love him so much. We have reached a really good place in our relationship and I can't imagine not having him in my life.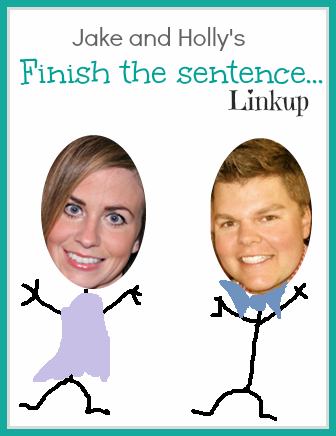 I am also linking up today with
Holly
and
Jake
. I've done the last 4 of these, might as well keep the streak alive.
If I had one extra hour in the day... I might actually get more than 5 hours of sleep.
I wish my name... wasn't so popular. I do love my name though, and I really like having the initials AZ.
I think anything chevron is... still cute, but I'm not obsessed with it. I think I own one thing that has the chevron pattern.
My last nightmare... was that Jason was killed in a car accident and I had to figure out how to move on without him. Horrible.
Sometimes... I neglect my job by spending way too much time on social media.
My last meal on earth would be... a perfectly cooked steak with garlic mashed potatoes and bacon wrapped asparagus.
I would much rather be truthful than lie to someone. Even if it hurts their feelings at first, the truth is always better.
Mayonnaise... Not a fan. I just don't even eat it anymore.
10 years ago, I didn't think... I would be able to work at the same company for 9 years.
Selfishly... I really just want to curl up by myself some nights with a bottle glass of wine and shut out the world.
My favorite show on TV right now... Actually, it's only on Netflix, but it is Orange is the New Black. Very quirky show by the same creator of Weeds.
And, George Zimmerman... NO
By the way, if you have nominated me for a Liebster Award lately, I apologize. I just never got around to getting those done. I appreciate it the gesture, but I suck at follow through. Procrastination Queen, right here.