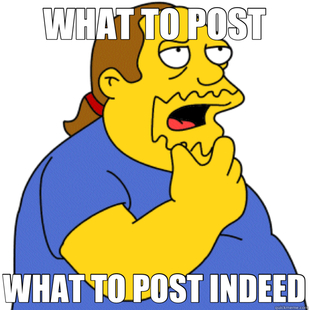 It is Monday, right? No, it's Thursday. Shit. Well, how about a week recap instead a weekend? I've actually had a pretty busy week, hence the lack of posting. Work has been ridiculous to the point that I don't have time to write in the morning. I guess busy is good, though. It means that I won't get bored. Just annoyed by stupid questions.
Last Saturday was a lot of fun and a day spent with my family. Saturday morning, I got up early because I needed to make the food dishes I was bringing, plus get in a little cleaning. I got a little overzealous with the vacuuming and ended up moving the couch and vacuuming under it as well as the entire upstairs. Having thrown off my schedule already, I also squeezed in a short run. I barely had time to finish the jalapenos and jump in the shower when I had to leave to meet my ex to get the girls (Hannah had to work Friday night) and then swing back by the house to grab Jason and Emmeline and head over to my aunt and uncle's house.
Being the bad blogger I am, I took absolutely no pictures at the family gathering. I didn't even get my phone out, but that's how it should be, right? I really enjoyed visiting with my sister and brother in-law and my nephew is the cutest. He is 17 months old and you can tell that he is going to be ornery.
Adorable family
After getting home and resting for a bit, we headed out to Target. Elsa and Cordie had gift cards burning holes in their pockets and they could wait to spend the money. I found a couple pairs of shorts for Em on clearance and then got some more sunscreen and managed to make out of there spending under $30. Win.
Sunday, I took my birthday girl, Elsa, to Build-A-Bear to pick out something as promised. She chose a Hello Kitty doll with an outfit from Justice that matched an outfit she already had at home. Again, no picture. Terrible. We then picked up the rest of the girls (minus Emmeline) and hit up the local thrift shop because Hannah wanted to look for some pants for work. I actually found several cute things including a dress that I'm still not 100% about. Then it was Sonic drinks for everyone and swimming the rest of the day.
I did grill up some Brats and chicken for dinner, which were delicious, and while I was grilling, some of our neighbors behind us were outside with a couple friends talking and laughing. I expected maybe a wave or hi, how are you, but I got nothing. I might as well have been invisible. Maybe I was putting off an unfriendly vibe? Or maybe I just have dick neighbors. Who can tell?
After I took the girls back, I took PeeWee to the pool. She had a little life jacket on and was having a ball jumping in the pool until she got crazy and jumped on my head. I was about done at that point. Jason (best boyfriend ever) came and took her home and let me sit at the pool all by myself. It was relaxing and glorious.
I am so ready for the weekend again. The past couple of days have been stressful at work followed by getting home late, cleaning the kitchen, making dinner, giving Em a bath, working from home and very little me time. I want to get some more running in, but I'm not pushing it. If I do end up running at the Fort4Fitness half, I'm sure I'll be slogging through another 3 hours trying to get to the finish line. "Just start drinking without me, guys. I'll catch up with you later".
The lovely
Marcy from Mustache Diaries
nominated me for a Sunshine Award, so I'll be back tomorrow with that. Cheers!